AC-CESS ALL OCEANS
12 April 2017
AC-CESS ALL OCEANS
The development of the MAC-ROV and the range of options to deploy it from the surface, as a Fly-Out system, or as part of a SHUTTLE system in any depth configuration to 6000m has led ALL OCEANS Engineering to rationalise the AC-CESS Co UK Limited side of their business.
The MAC-ROV needs to be in the ALL OCEANS "stable" given that it is offered with their developed specialisation in the design and manufacture of Launch and Recovery Systems (LARS) and Tether Management Systems (TMS), it then makes sense to have the AC-ROV product in the same stable.
AC-CESS was put in place to "brand" and sell the now well established AC-ROV Hand Carry underwater inspection system and options. The brand is to be retained but all business will now be transferred to ALL OCEANS Engineering Ltd. at the same address. The AC-ROV product will continue to have its own identity; postal address, email address and contact telephone numbers.
All of the AC-CESS products were designed by ALL OCEANS Engineering Ltd and they are manufactured by them. They also employ everyone at the Aberdeen address which means that the service, support and even the staff that our customers are familiar with, will be unchanged and unaffected.
If you have AC-CESS Co UK Ltd registered on your supplier database and accounting systems then we would ask that you simply change this to All Oceans Engineering Ltd or delete it if All Oceans are also on your system. We accept that this may cause some inconvenience so apologise in advance and thank you for your understanding.
All Oceans Engineering Website - www.alloceans.co.uk
Brian Abel
Managing Director
1st April 2017
The MAC-ROV and the BLUE ECONOMY
19 February 2017
Access all oceans with MAC-ROV systems. A ground breaking BLUE ECONOMY approach to underwater visualisation, discovery, work and recovery. The BLUE ECONOMY is about developing more efficient and adaptable solutions that do more with less. The AC-ROV, MAC-ROV and SHUTTLE systems have been developed to do just that in all wet environments to 6000m.
The essential "access" functions are simply; Deploy, Locate, Observe, Sample and Recover. This identifies the ability to "Observe" as a stand-alone function. Given that ALL OCEANS Engineering have all the skills and experience to develop complete ocean access systems (ROV, LARS, TMS) the challenge then becomes how to do more with less. IE; less capital cost and less operating cost. Smaller systems can fit on smaller vessels.
The MAC-ROV is a 4k and HD camera platform. A 500mm (20") cube shape with six degrees of freedom. Primarily developed as the next bench mark Fly-Out system when packaged with its 250m excursion TMS but also vailable as a surface deplyed system.
The SHUTTLE is a flexible payload and mission driven deployment and recovery system allowing more to be done per dive. A MAC-ROV and TMS (standard Fly-out configuration) would automatically get SHUTTLE space. The "Shuttle" concept can be applied to any size or payload however the one illustrated here is rated for 1Te to 6000m (20,000 feet) and is 1.5m x 1.2m x 1.3m high. This is more than enough to accomodate the type of tooling that would normally require a Work Class ROV system at a fraction of the weight, power and deck space.
Some MISSION SPECIFIC SHUTTLE payload examples:
Artefact and Sample Recovery: One MAC-ROV Fly-Out, a 7 function Schilling manipulator (Titan, Atlas or Orion), geology corer and a bathyswath.
Cinematography: Two MAC-ROV Fly-Outs, each configured with different lights and cameras, whilst the Shuttle supports additional cameras and high density mobile flood lighting. IE; 3 independently controllable platforms separating lighting from cameras.
http://alloceans.co.uk/downloads/All_Oceans_Blue_Economy_v3.pdf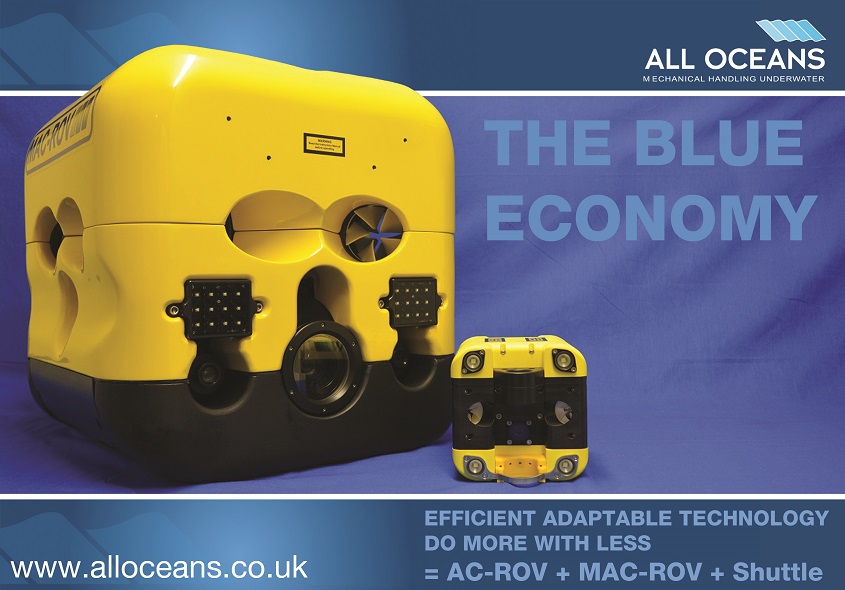 AC-ROV's in Gdansk and Szczecin
27 September 2016
Escort Sp. z.o.o. our Polish distributor of AC-CESS products has been awarded the contract to supply specialised underwater equipment for inspection of harbours throughout Poland. The AC-ROV has been purchased to be integrated into 2 new vessels which were under construction at the time of the sale. Arek Markowski of Escort Sp. z.o.o said "The vessels will service 2 harbours in Poland, one in Gdansk and the other in Szczecin. The AC-ROV's will be carrying out general harbour inspections by the harbour vessels".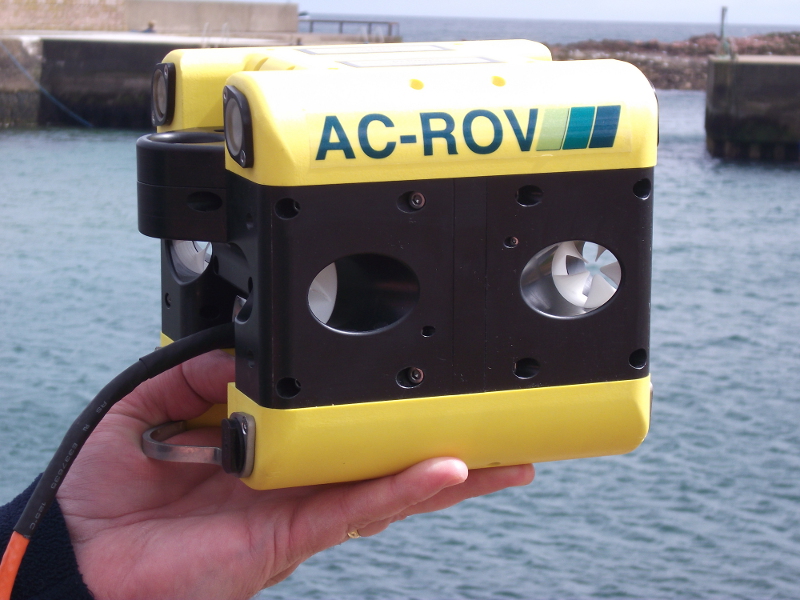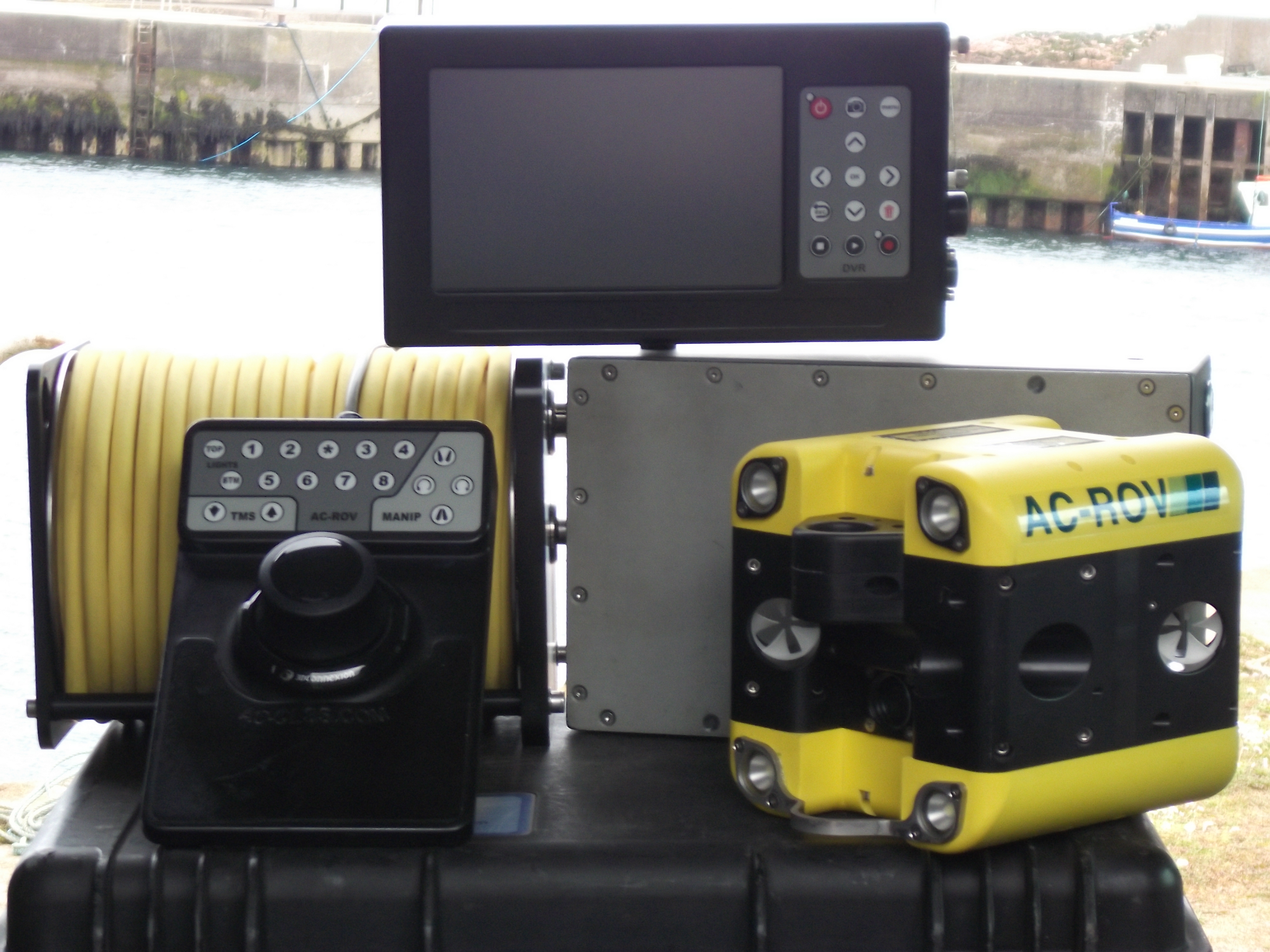 AC-CESS Deliver the AC-ROV 100 to Chinese Power Station
12 September 2016
AC-CESS deliver the market leading AC-ROV 100 to its Chinese distributor Beijing Hydrosurvey Science & Technology.
Beijing Hydrosurvey confirmed the sale of the AC-ROV to Pushihe Power Station after they identified the AC-ROV as the most suitable micro submersible following analysis of the ROV market. Stella Jiang from Beijing Hydrosurvey said "the mobility and single operator benefits of the AC-ROV where deciding factors in the purchasing decision between them and Pushihe Power Station representatives".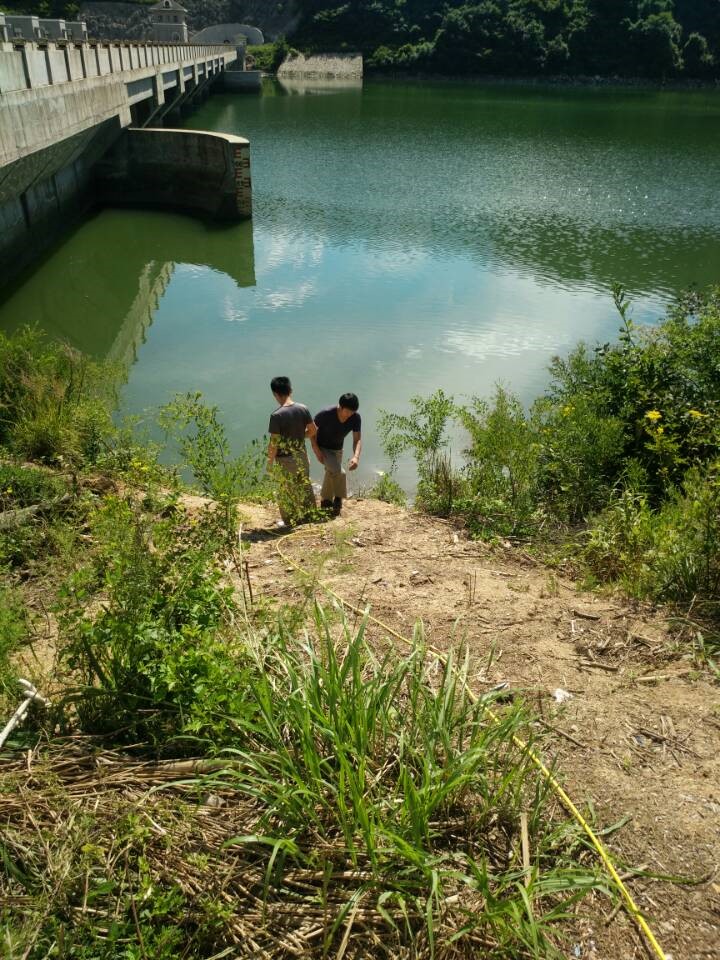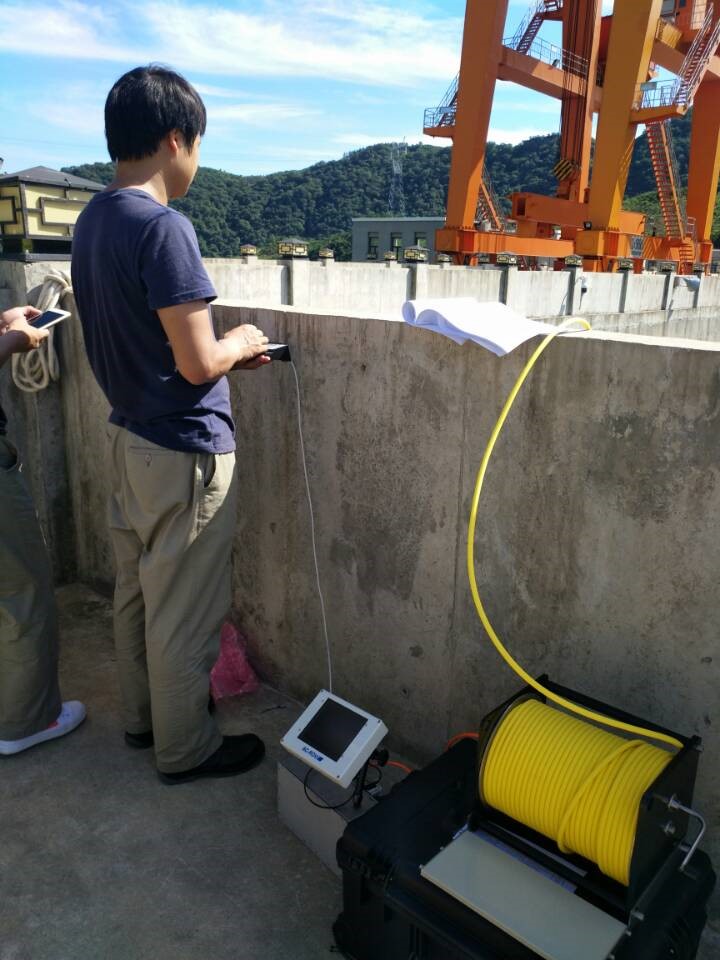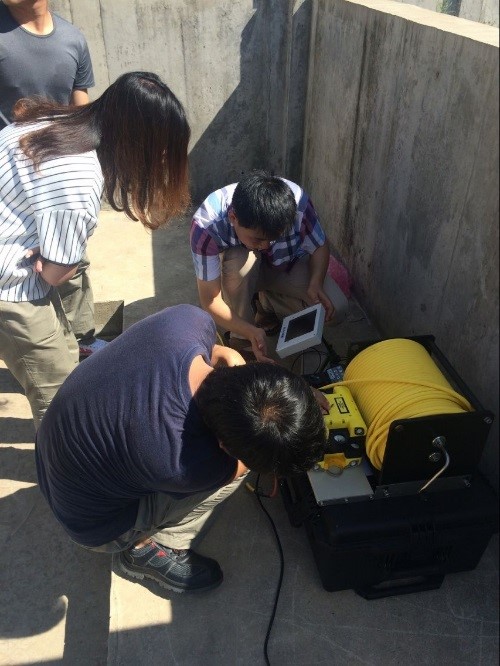 Water Tank Inspection and Repair
29 August 2016
Liquitech Ltd is one of the UK's leading suppliers of water tank inspection, maintenance and repair services. They have inspected or maintained over 1000 water tanks - most of which are used in fire protection systems in the UK.
Liquitech have adopted the AC-ROV 100 mini ROV system from AC-CESS as being the best tool for all of their wet inspection work. Using a submersible camera is the most cost effective and safest way to inspect the internals of water tanks, as the tank does not need to be emptied. Liquitech provide one of the fastest tank inspection and repair services in the country and the AC-ROV is part of their success story.
Director Andrew Searles explains that "…each of our client's sites is unique and we find ourselves in basements, car parks, goods yards, building roofs and towers. The AC-ROV's size, portability and robustness makes it a very useful tool to have in our vans. The ROV can be safely operated by a single engineer, who can arrive on site, hand carry the system to the inspection area, and have it deployed and ready to go within minutes".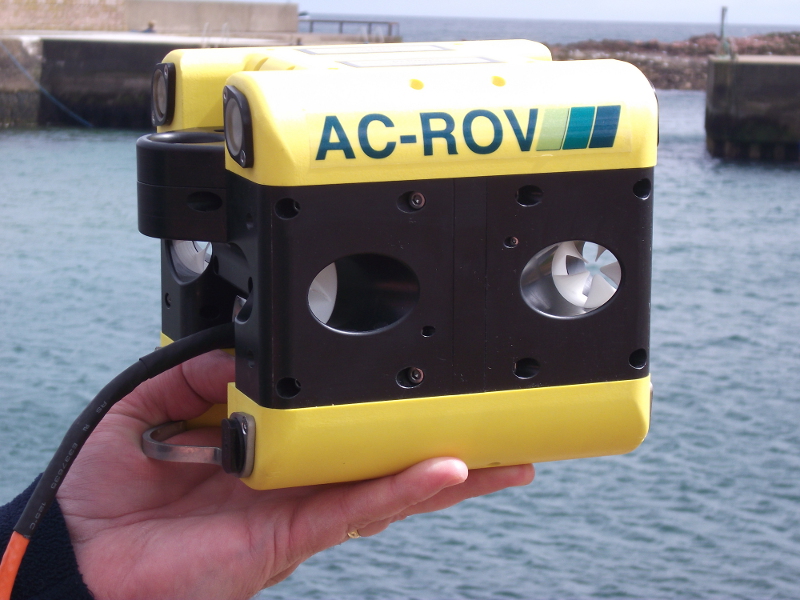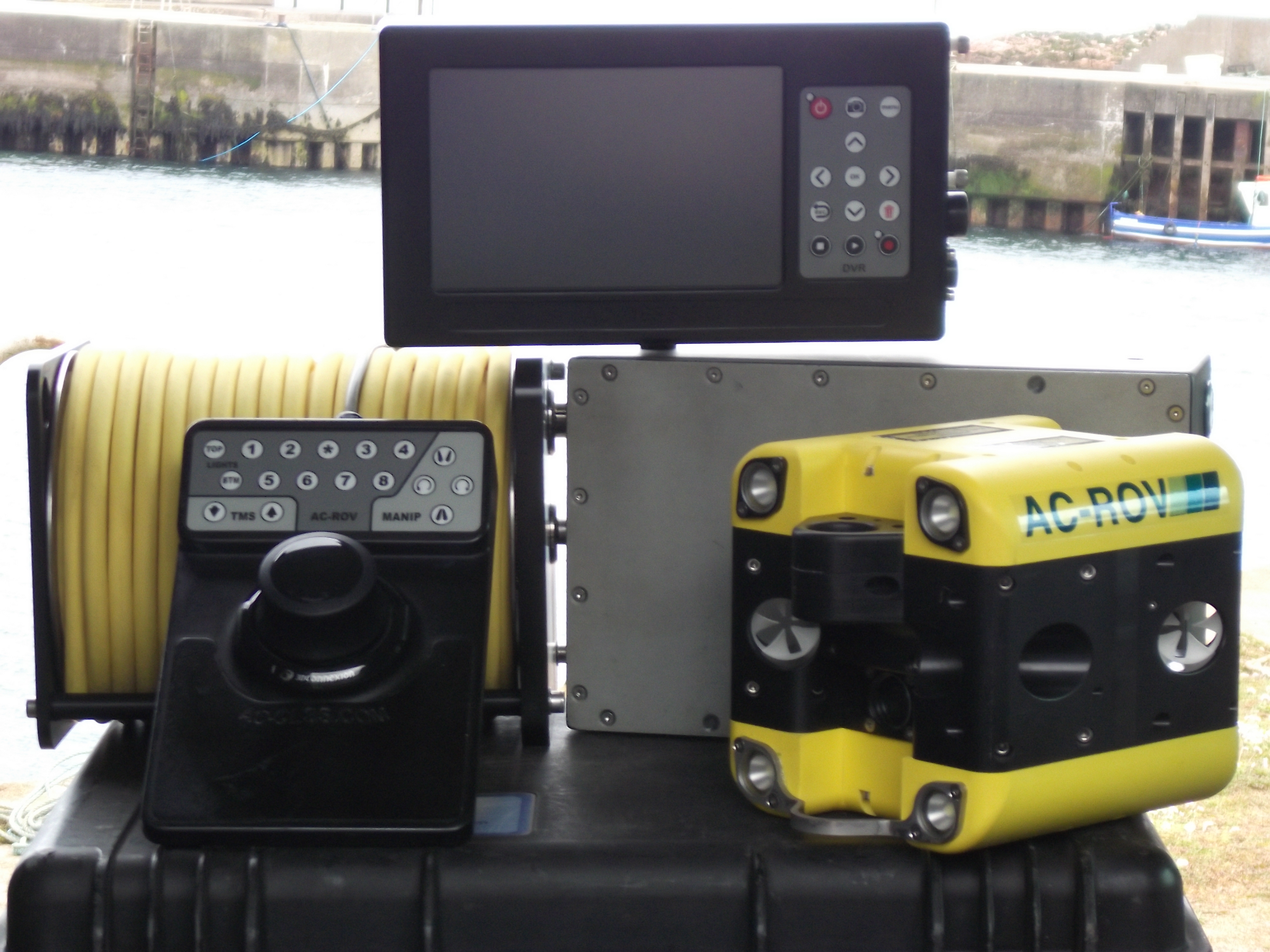 AC-ROV 100 Completes Fish Farm Inspection
15 August 2016
"Holdfast Marine Ltd. completed our net and mooring inspections with their AC-ROV 100 micro ROV in April 2016. Andrew Watters of Holdfast Marine was very flexible when arranging survey times to suit our operations. He was mindful of weather and tides so as to maximise survey time and minimise downtime" said Matthew Zietz of Wester Ross Fisheries Ltd who went on the say that "Holdfast Marine offered a completely self-supported inspection package. They didn't interfere with farming operations and minimal staff time was required to facilitate all of the on-site inspection work. The inspection report was excellent, clearly identifying defects and potential issues, well supported with pictures and video from the AC-ROV. We have found the inspection service offered by Holdfast Marine to be extremely thorough, providing essential data for a diving contractor to quickly locate a defect on a large pen-group and where dive time is limited. Wester Ross Fisheries Ltd would highly recommend Holdfast Marine's services to other fish farm operators as a relatively low cost inspection package."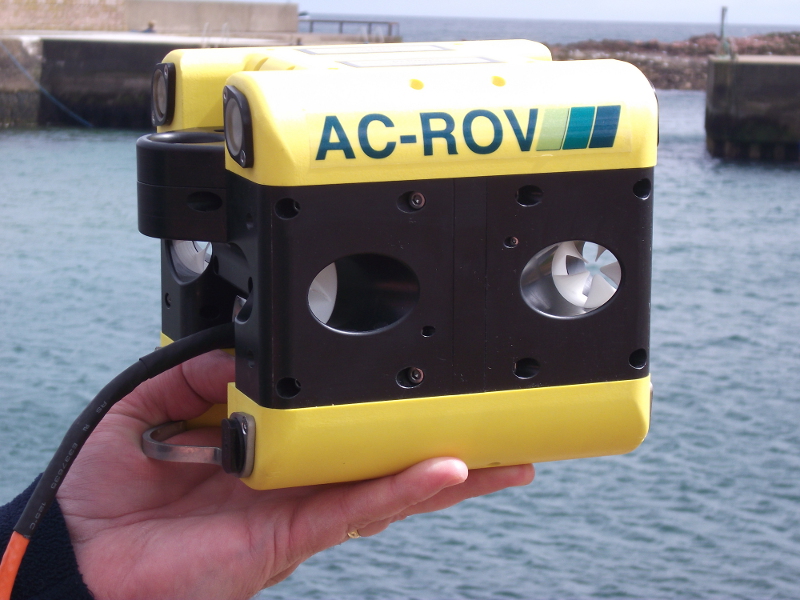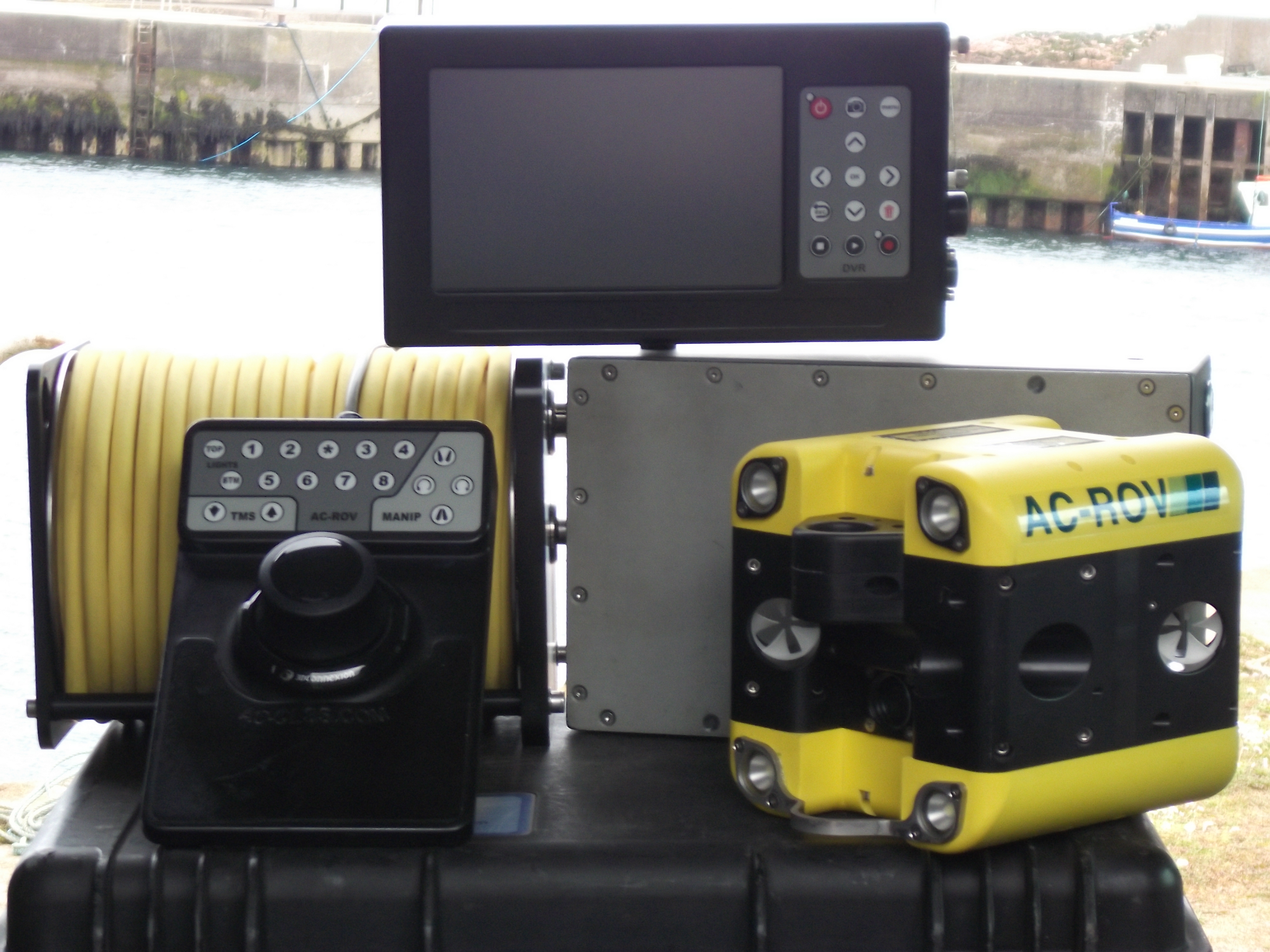 Introducing the MAC-ROV
26 July 2016
ALL OCEANS Engineering of Aberdeen, Scotland went public in February 2016 with the fact that they were developing a new small ROV. They didn't say how big it was, but they did qualify it as reinforcing the Company's position at the forefront of Fly-out ROV systems and technology. They added that it would also be available as a surface deployed system. They have now released details of their new vehicle, the MAC-ROV, and a range of deployment options. Truly ground breaking and inspirational work from this committed underwater engineering business.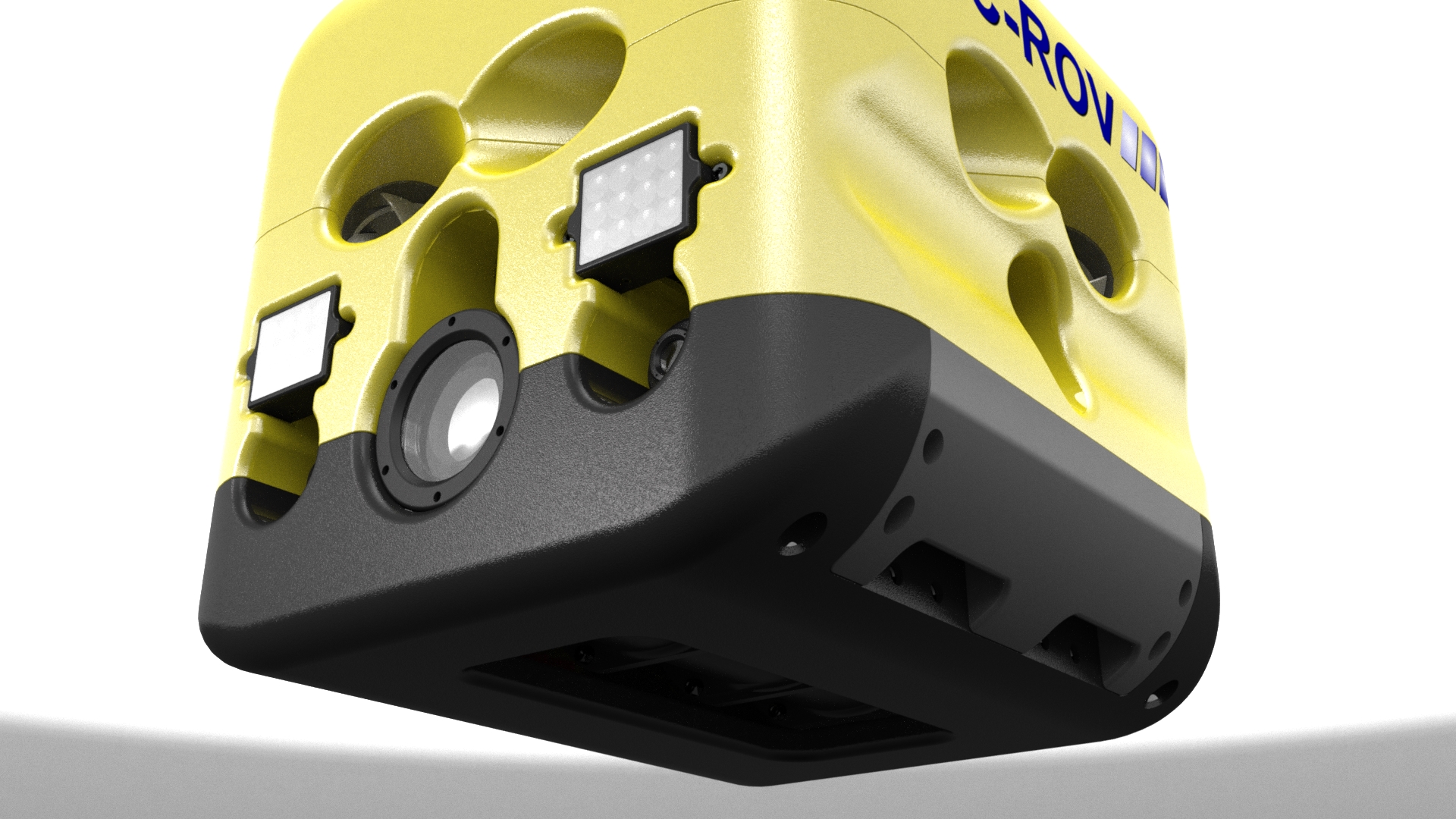 The MAC-ROV makes ACCESS to ALL OCEANS a reality for more people and more vessels.
This link is an insight into the inspiration behind it.
http://www.subseauk.com/documents/presentations/brian%20abel%20-%20all%20oceans%202016.pdf
http://alloceans.co.uk/downloads/Introducing_the_MAC-ROV_-_D.pdf
Confined Space Inspection
15 July 2016
AC-CESS sets the standard in Remote Visual Inspection (RVI) of confined spaces. Time has shown that the AC-ROV underwater vehicle is beyond comparison when it comes to size, portability and mobility. With a "fly-through" size of just 190mm diameter it can get into seriously small spaces and send back real time high quality colour video of details that may never have been seen before. To get an idea of how small it is you can actually hold the AC-ROV in your hand.
Being small is important for Confined Space Inspection work, but the AC-ROV does not sacrifice mobility for size. It has more degrees of freedom than any other small ROV.
In simple terms, the AC-ROV can fly sideways in the same space and at the same speed as it can fly forwards and backwards. This translates into two important capabilities for efficient Confined Space Inspection work.
A "precision" aim is not required to fly through a gap. Get close then simply move sideways to drop through a gap or onto a target.
The AC-ROV is able to turn in moving water without being blown away and move sideways through the same space needed for fore and aft flight.
In comparison, vehicles with no lateral thruster cannot move sideways at all. If your aim on a gap or hole is even slightly off you must reverse away a good distance and take another run at your target and hope for the best. There are also a lot of vehicles with big side areas but less lateral thrust compared to their fore and aft area and thruster capability. Sideways speed, or current holding capacity, is therefore severely limited. In simple terms, twice the area and half the thrust means a quarter of the speed. So no matter how good fore and aft mobility is, lateral movement will be very limited and need a lot more space.
Confined Space Inspection is not about speed through the water, it's about moving about in tight spaces, and no other ROV does it better than the AC-ROV.
Subsea Mapping with the AC-ROV 100
23 June 2016
''Bibby HydroMap have recently used the AC-ROV 100 supplied by Holdfast Marine Solutions Ltd to carry out visual inspection of seabed conditions along a number of survey corridors in some highly challenging coastal environments. We have been very pleased with both the quality of the supplied equipment and also the high level of service and support provided. We have been particularly impressed by the level of support and flexibility provided by Holdfast Marine Solutions with respect to the provision of and maintenance support for the ROV. The image quality acquired by the AC-ROV 100 has also been highly suited to our needs to accurately image the seabed for construction purposes.''
Simon Baldwin – Project Manager Bibby HydroMap Ltd.
Dive in with an ROV
09 June 2016
Who do you call when you need to look at something underwater? Diving service providers or ROV service providers? Well, by far the best call is to the business that does both.
There are many diving service companies around the world who own and operate at least one portable ROV. We know this as they make up a big part of the customer base for the AC-ROV. The most portable, robust and rapid underwater inspection system available in the global market.
An operator can be on site and have the AC-ROV in the water in just a few minutes. If nothing is found or there isn't a problem needing immediate attention, then the bill for the inspection service will be a fraction of what it could have been had a dive team been mobilised to do the same inspection. Remember, in most countries it is now not possible to have a single diver jump into the water to do even the simplest of inspection jobs.
If something is found that needs some sort of a fix then 99% of the time divers will need to follow through. This is simply because divers are so much more adaptable and can normally fix things quickly and easily. The alternative is to get the right size of ROV with the right tooling and capability, but because nearly every underwater job is different this is rarely an option, let alone easy.
When divers are mobilised to follow up on AC-ROV findings, they are already ahead of the game because they know what the problem is from the AC-ROV video recording. The initial AC-ROV inspection is never wasted, as the first manned dive can go straight to fixing the problem with the right tools.
A further advantage is that the AC-ROV dive data becomes the basis for the manned dive risk assessment. Having the AC-ROV in the water with the divers can also add extra health and safety cover. Used as a "buddy" it can keep an eye on the diver's tether and their back, or be used as a "scout" to work ahead of the diver. The AC-ROV also makes a good "hand held" camera and can be fed by the diver into places where the diver can't fit or reach.
The AC-ROV is a best buddy to many divers and dive service providers around the world.
Contact AC-CESS for more information if you want one in your tool box.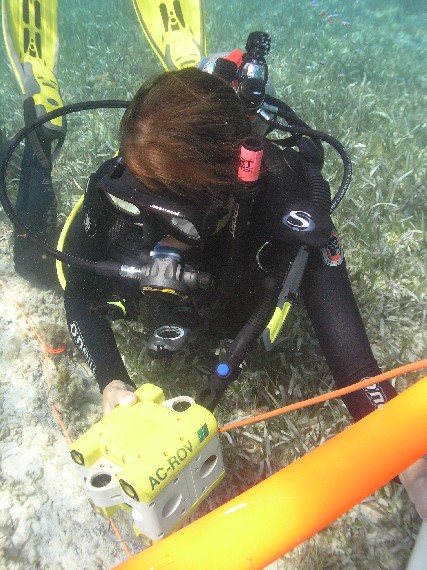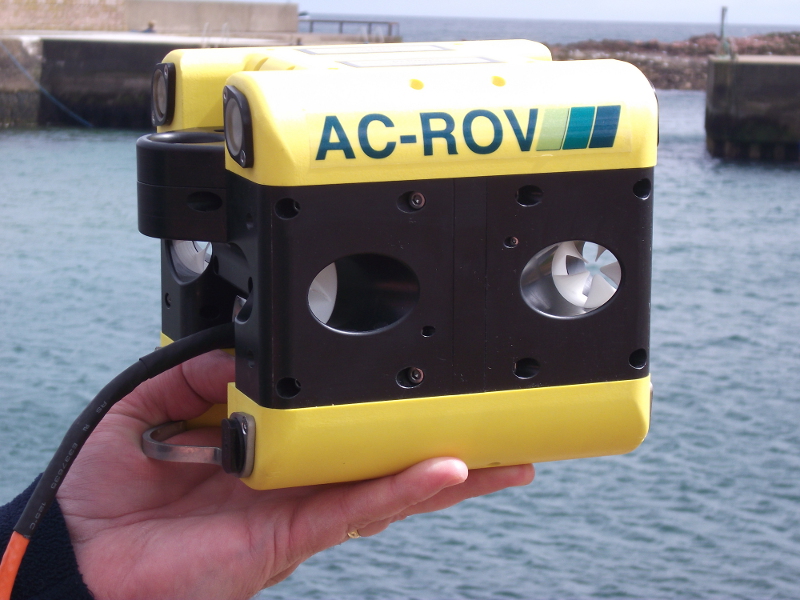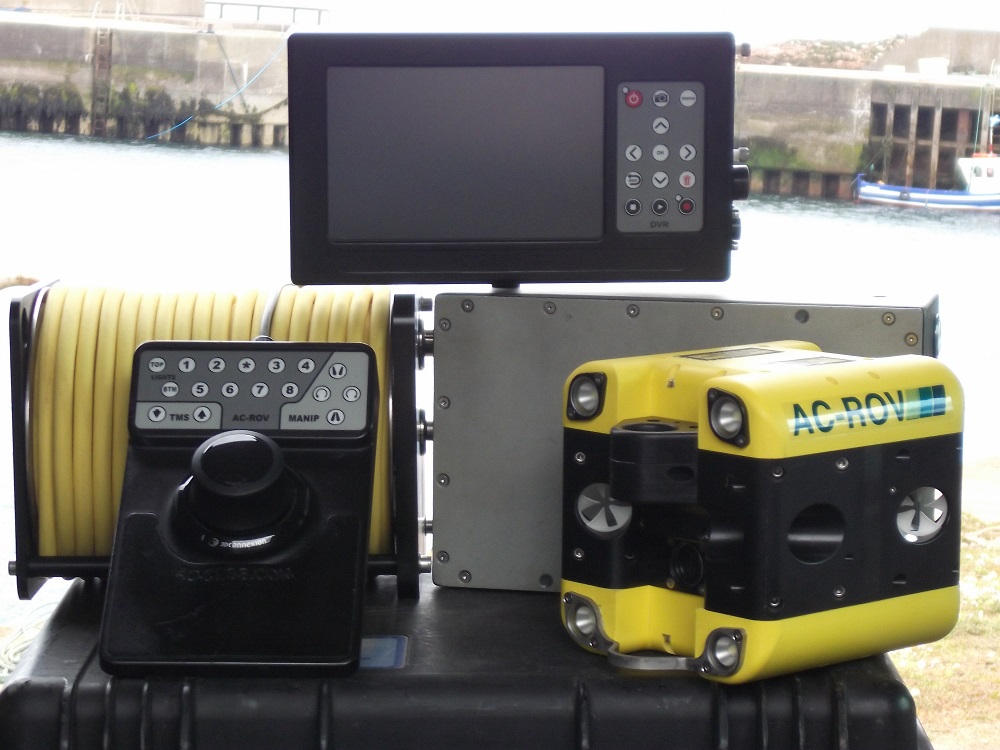 Underwater Inspection Response
25 May 2016
Are you responsible for marine and underwater facilities and assets? If so, you need to be able to respond to any and every request for an underwater inspection. It could be a routine inspection or it could be an emergency requirement.
In all situations there is a necessity for a visual appraisal of an underwater target. Only when you see an issue can you plan the appropriate action or actions.
The best tool for first pass underwater inspection is the tool that can be mobilised quickly and easily - the AC-ROV 100 is that tool.
The AC-ROV 100 is the most portable and capable underwater inspection ROV on the market. Any first pass inspection is never wasted time or effort as it enables a tailored response.
Underwater Inspection Services
11 May 2016
At AC-CESS we get 2 types of enquiry; those wanting to purchase an AC-ROV system and those wanting to get an Underwater Inspection done.
AC-CESS focus on developing sales through their global distributor network and respond to service enquiries by linking into a developed network of owner / operators to support Inspection Service needs onshore, inshore and offshore.
A recent addition to this Service network is Holdfast Marine Solution Ltd based in the highlands of Scotland.
Holdfast have a background in commercial diving and underwater visual inspection onshore and offshore. Owner Andrew Watters said he feels that the unique size and manoeuvrability of the AC-ROV makes it the ideal tool for pre dive inspection and risk assessment. The AC-ROV will also be used for mooring, harbour, hull, jetty and fish farming net inspections and will be the first choice deployment tool for all first pass underwater inspection requirements.
Holdfast is a welcome North of Scotland addition to of the AC-ROV 100 Service network covering the UK and adds considerable strength and depth to this part of the market.
If you want to hire an AC-ROV with an experienced operator contact the AC-CESS sales team and they will forward your details to the Underwater Inspection Services network.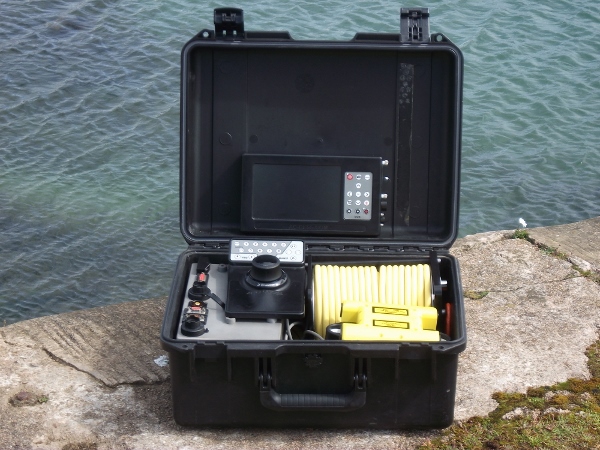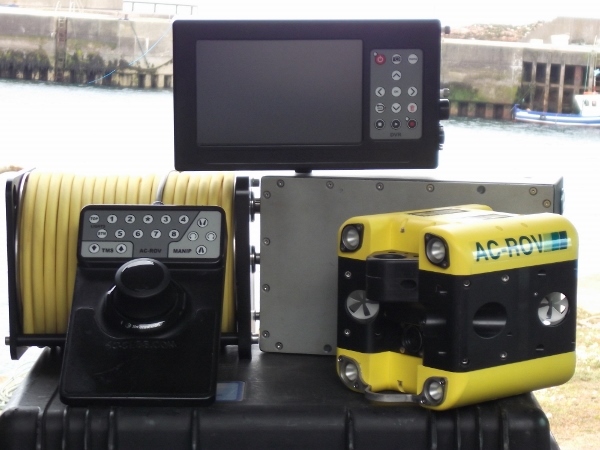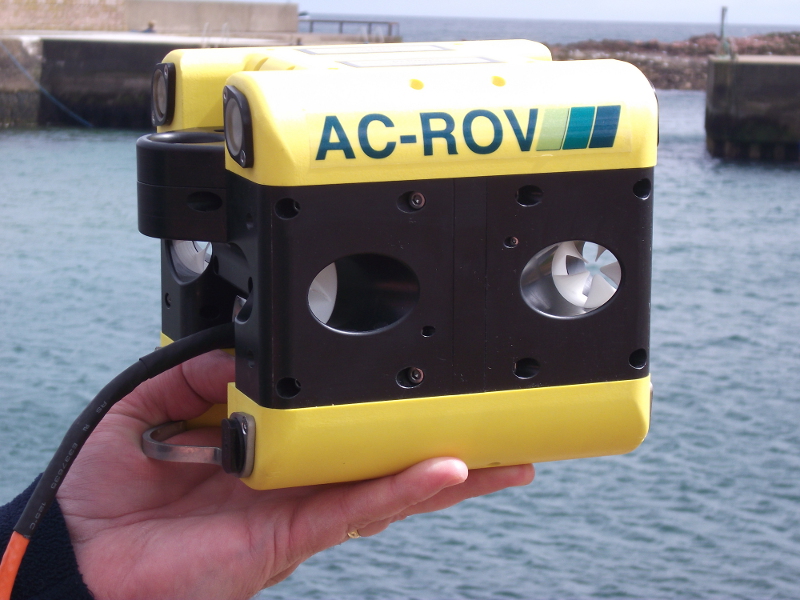 The ROV which refuses to grow up
02 May 2016
The AC-ROV 100, now into its second decade of production, is still the market leading Micro ROV. It has been refined, improved and configured to accommodate a growing list of powerful options, yet it remains the same size and retains its original 190mm diameter "fly through" capability.
While the VideoRay and Seabotix vehicles have increased in size and price in the same time period to accommodate technologies, the AC-ROV production team choose to protect the fly-through size and encourage technology and prices down to suit.
The AC-ROV has been available with sonar and position tracking options for many years now and both were solutions engineered down in size to fit. Interestingly there are smaller solutions coming into the market now with more capability. It would be nice to think that the AC-ROV's presence in the market played a part these technology drives.
The AC-ROV simply refuses to grow up, yet it is still the most portable and capable micro ROV available.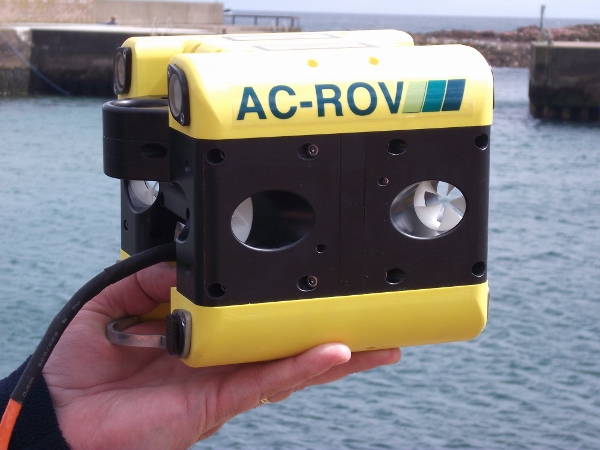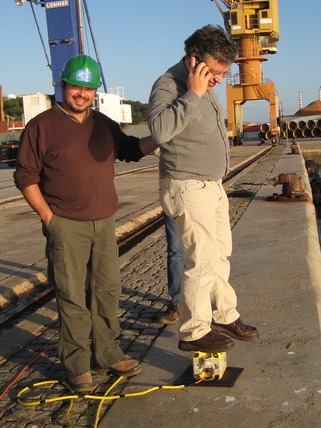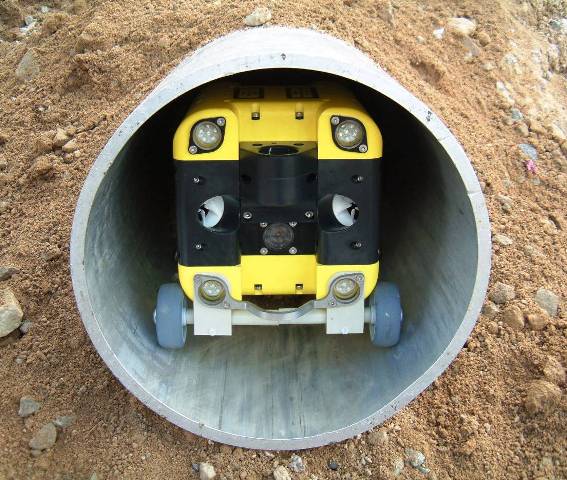 How Portable is Portable
14 April 2016
Portability is not just about weight. Yes the AC-ROV system is lighter than a VideoRay or a Teledyne Seabotix system, and it comes in one hand carry case (20kg) as opposed to several crates so passing any obvious portability test is easy for AC-CESS.
Look more closely and one hand carry case means you just need to make one trip from your transport to the deployment site so the AC-ROV will always be in the water and working before other systems. One case also means one climb up or down a stair or ladder to any more remote deployment sites.
If the AC-ROV system isn't portable enough then you can choose to leave the case behind and the working system weighs half as much. AC-CESS carry cases are "dumb" so leave them behind if you have a confined operating station.
The AC-ROV needs no more space than its single operator takes up standing or sitting.
One hand is all that is needed to deploy, fly and recover the AC-ROV so you will have a free hand to hold on, take notes, use a mobile or radio. The AC-ROV is a true one operator system.
Where you can go the AC-ROV can go. Portability is about getting both into position and working quickly, and AC-CESS do it better.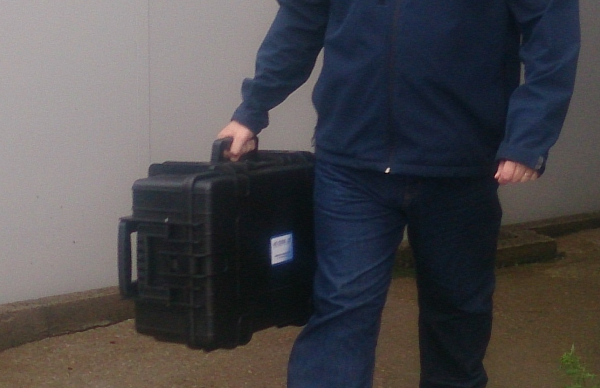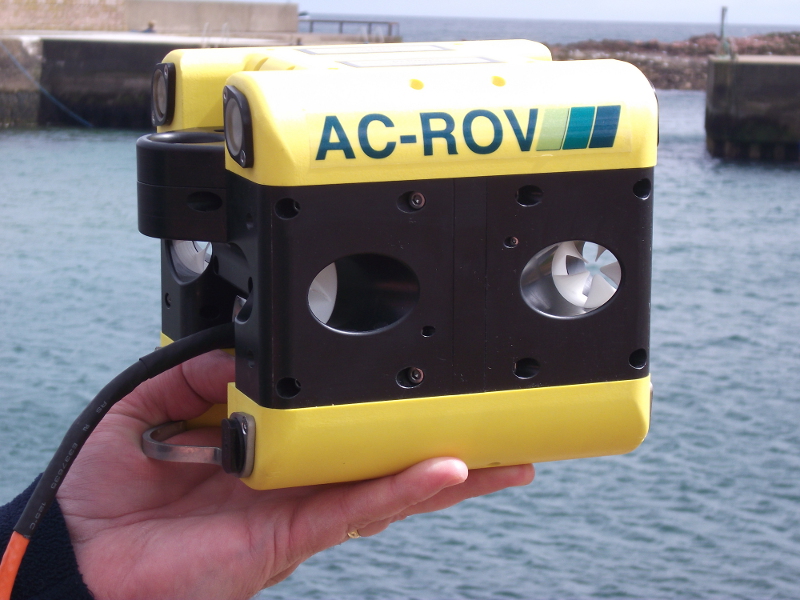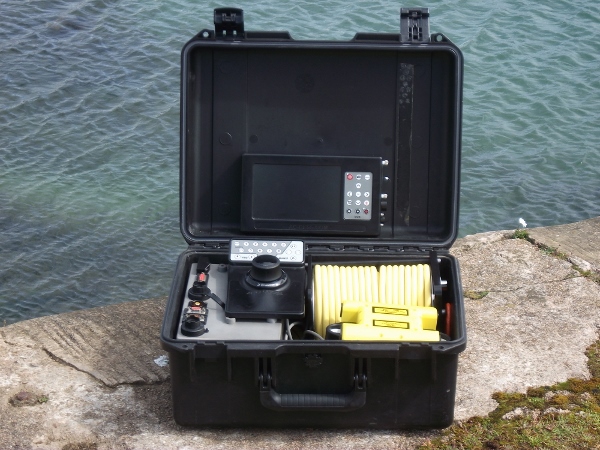 AC-CESS Co UK have a busy Oceanology Exhibition
23 March 2016
It was good to meet new and old customers and especially our distributors some of whom traveled long distances to come and see us at Oceanology. Our stand drew a lot of attention partly due to us having our AC-ROV 100 operating in our purpose built display tank. With our Thickness Guage, Sonar and USBL options on display it let people see that our micro ROV can do a lot more than just visual inspections and along with the AC-ROV 3000 fly-out system shows that we are able to go to depths of 3000m.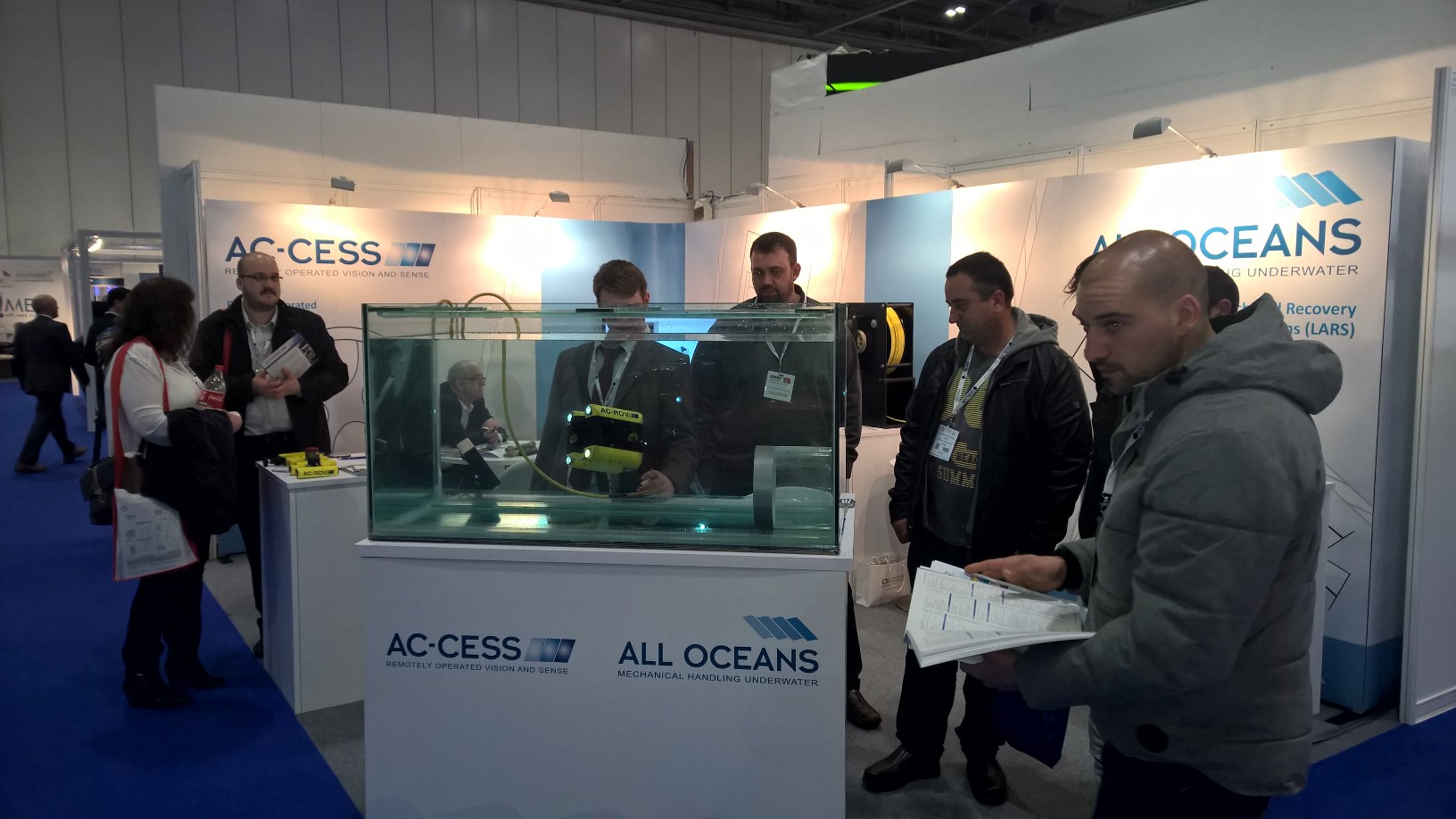 Exhibiting stand C351 Oceanology International 16
01 March 2016
We are exhibiting at stand C351 at Oceanology International London from 15th - 17th March 2016. We will have on display
AC-ROV 100 in our display tank
AC-ROV 3000 fly-out system
AC-CELL 100 crawler
Integrated USBL tracking and positioning system
Ultra miniature digital scanning sonar
2 function 3 jaw manipulator
Come along to stand C351 and try your hand at flying the AC-ROV 100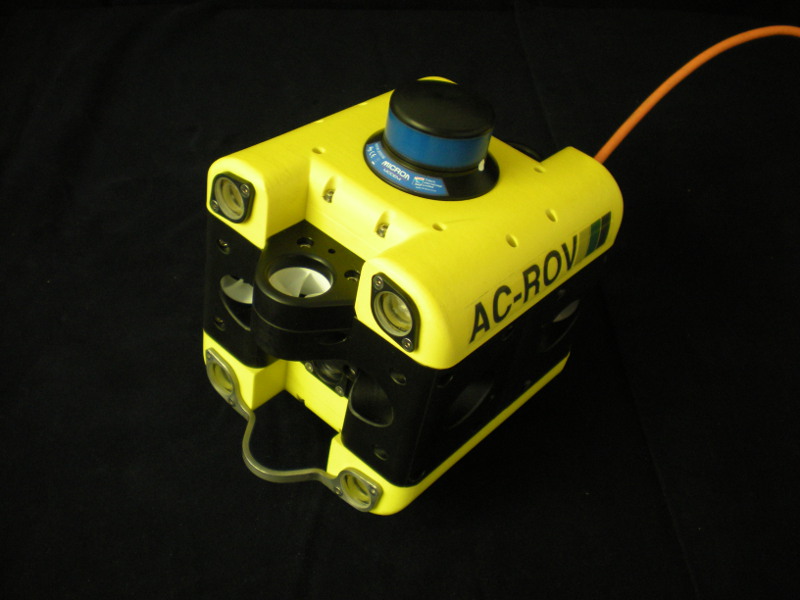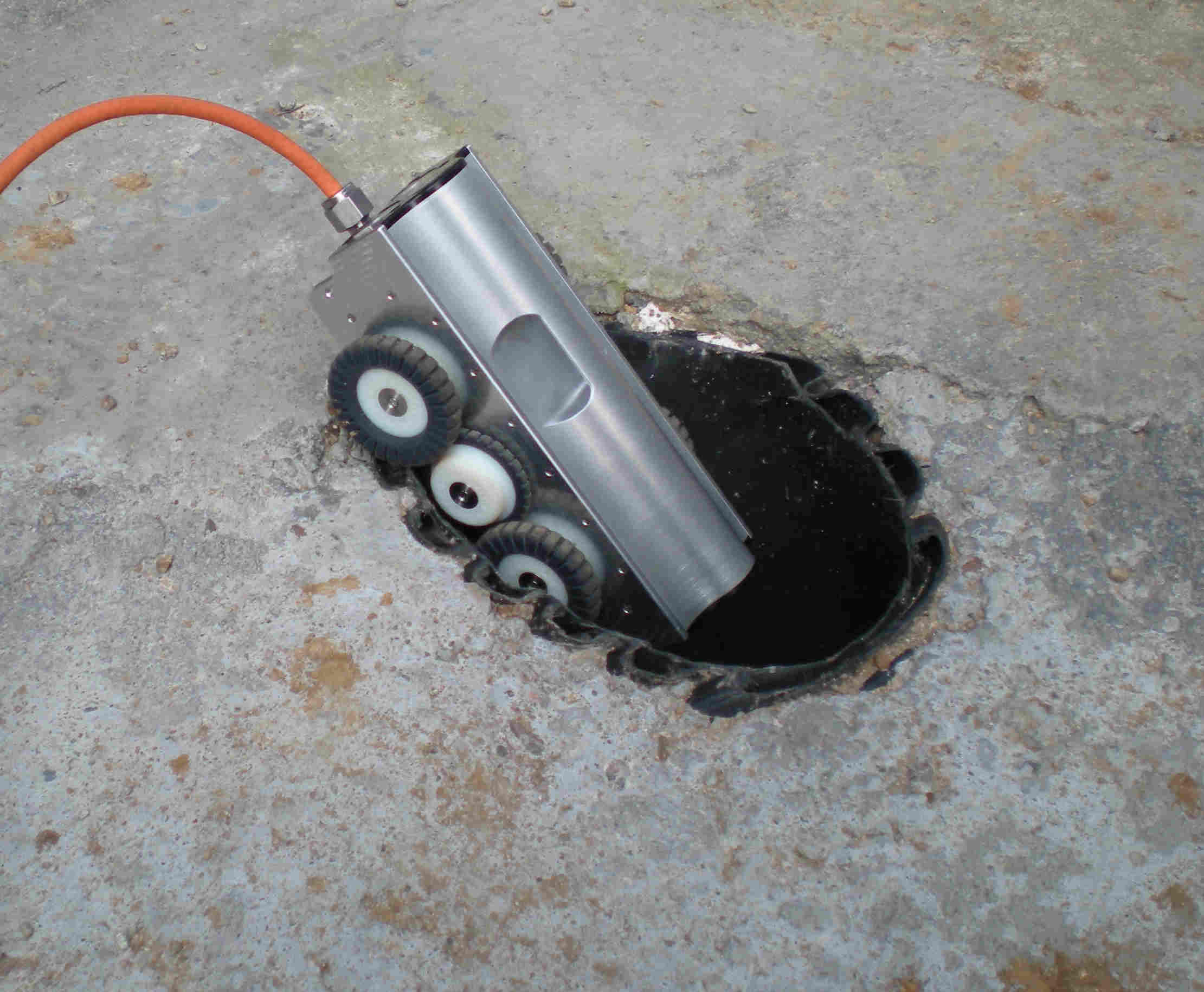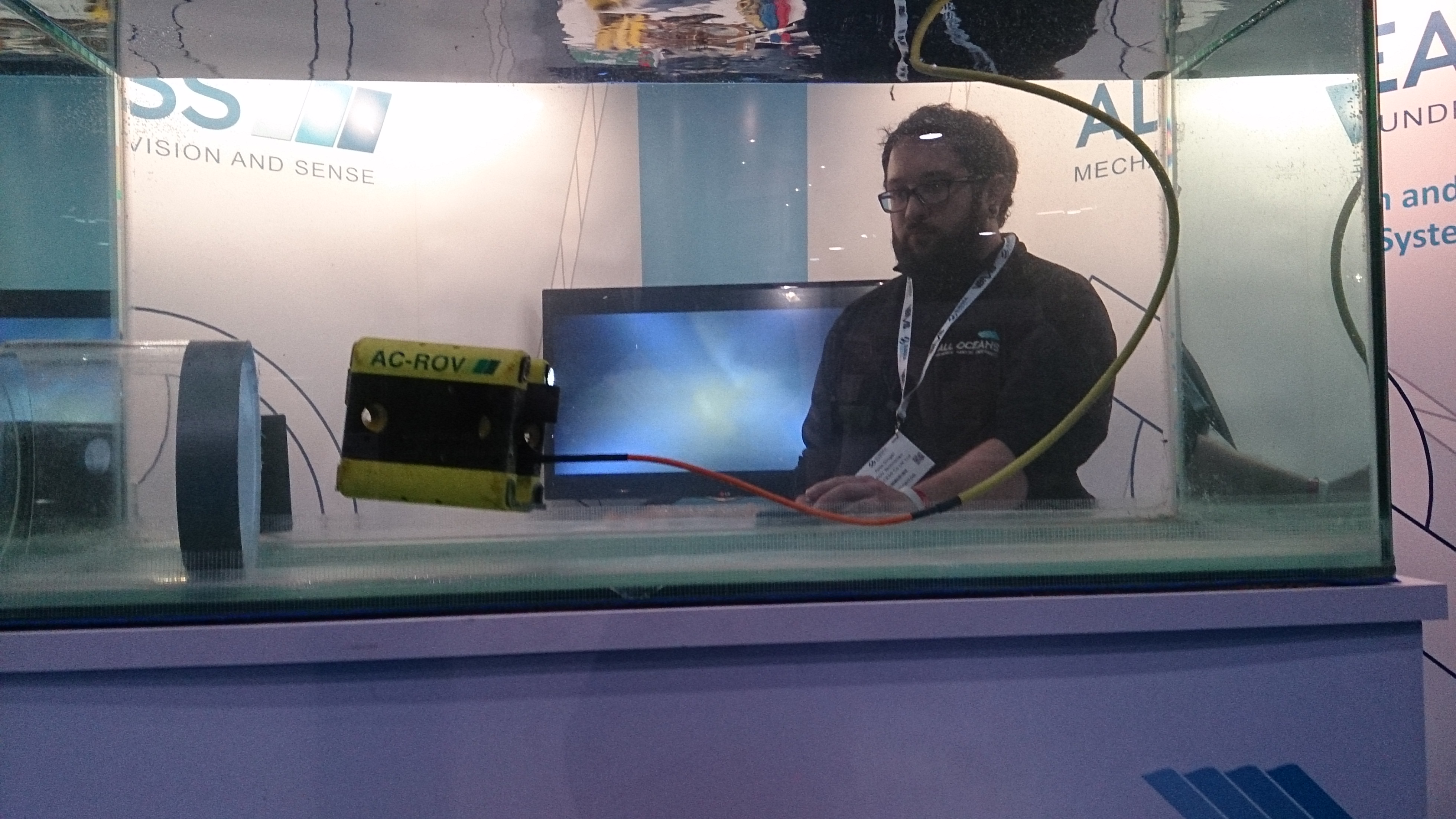 AC-CESS AC-ROV 100 at the Glasgow Science Centre
01 March 2016
The Glasgow Science Centre recently opened their new Powering the Future exhibition. It occupies half of Floor 2 of the Glasgow Science Mall shining a spotlight on one of the biggest challenges facing modern society; the future of our energy supply. Through a series of over 60 interactive exhibits, they ask visitors how we can meet increasing energy demand reliably, and at an acceptable economic and environmental cost. The AC-ROV 100 gives visitors the experience of piloting an underwater micro ROV. The budding pilot will be able to fly through 8" pipe which is located in the purpose built tank.
From feeling the force of wind in a hurricane booth, piloting an underwater ROV and generating power in a dance-off, visitors will learn about ways we can harness energy and recognize the benefits and limits of different sources. From how energy is generated, to how it is transformed, stored and transmitted, you can discover what happens behind your power switch. AC-CESS would like to wish the Glasgow Science Centre every success with the new and exciting exhibition. http://www.glasgowsciencecentre.org/powering-the-future.html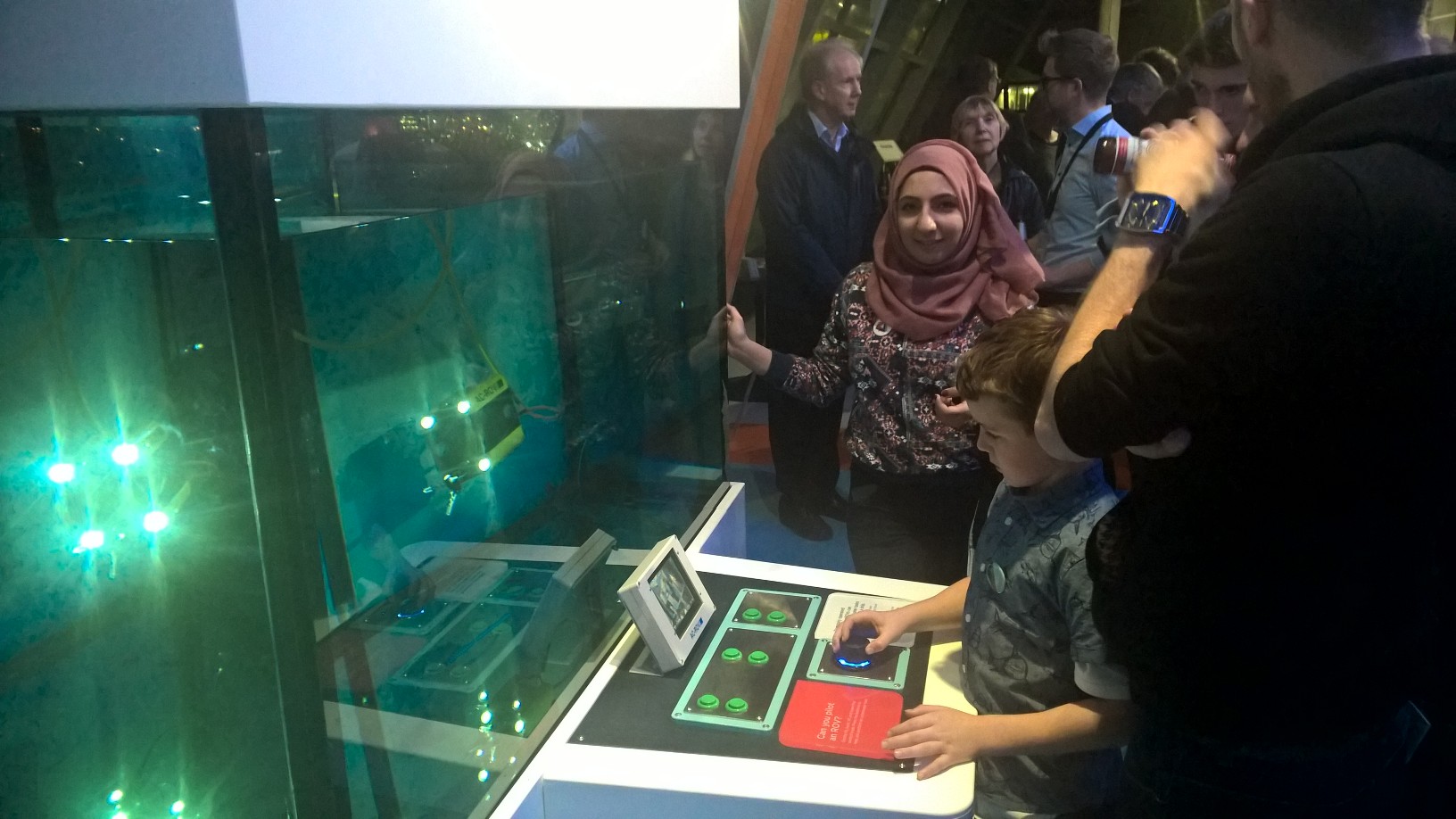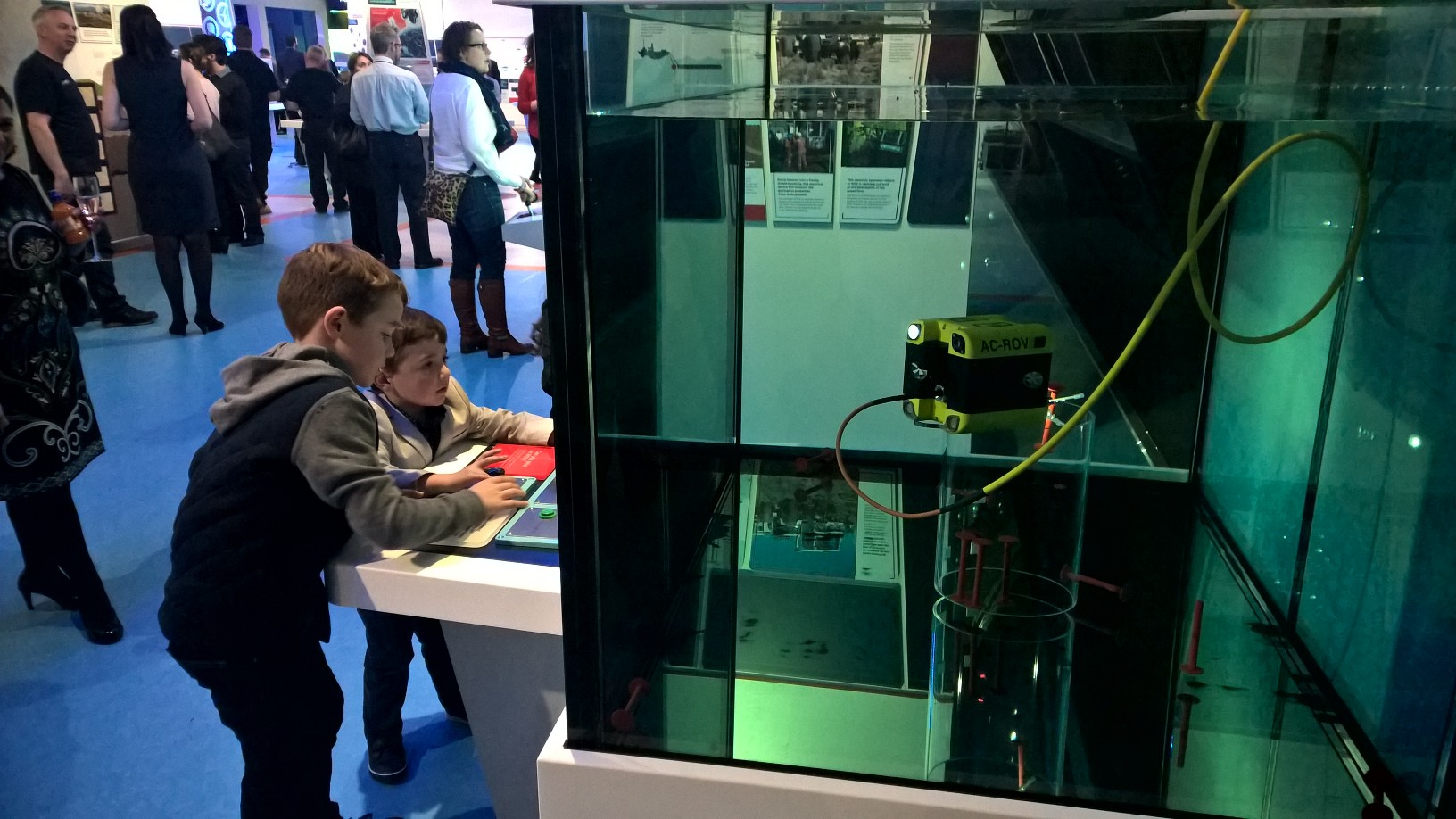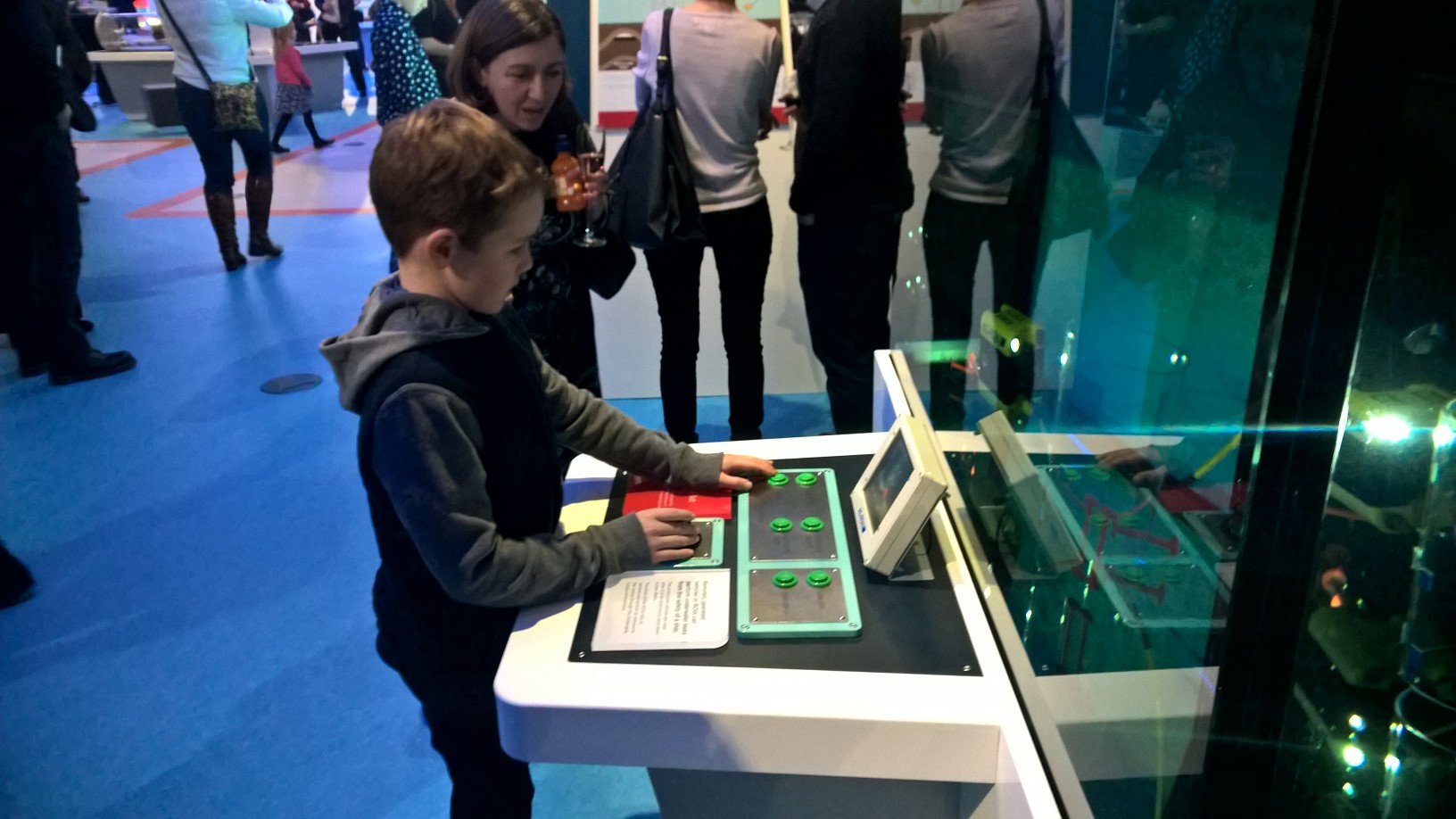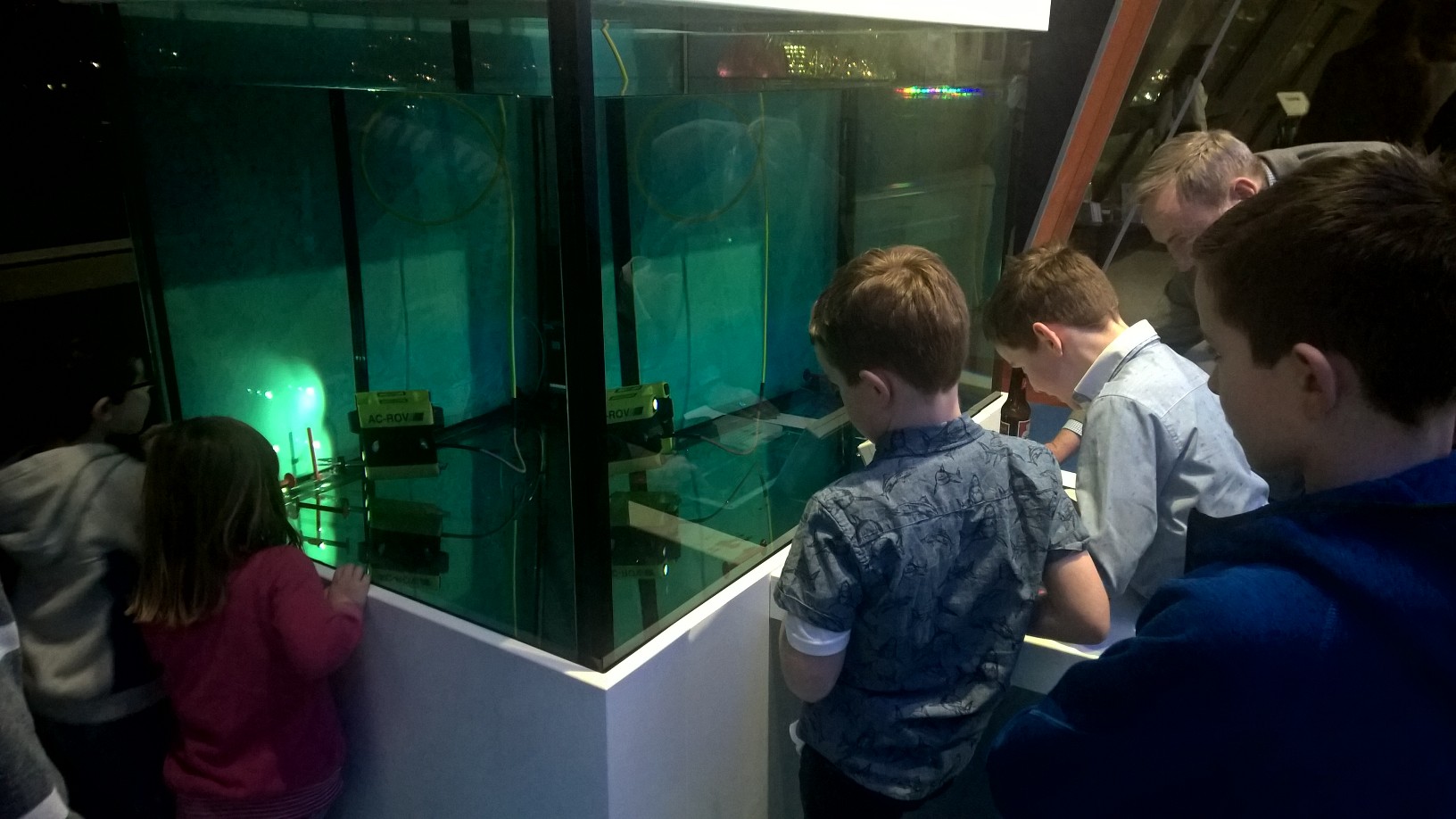 AC-CESS CO UK Ltd Managing Director presents paper at Subsea Expo conference
26 February 2016
The MD of Alloceans Engineering Ltd the parent company of AC-CESS CO UK ltd present the paper below to an audience at Subsea Expo 2016 in Aberdeen.
AC-CESS ALL OCEANS
Ocean Access limitations are disappearing fast, and the opportunities are increasing equally as fast, so the world is set for continuing, and accelerating underwater exploration, discovery and development. ROVs are a fundamental access tool, but what type and size is best suited to first step exploration and discovery ? How small can a capable, all depth, ROV access system be ?
These are questions recently put to an Audience at Subsea Expo 2016 in Aberdeen. You may think there are technical limitations, but in reality there aren't – NOT anymore. Yes, some things are tricky, but as Engineers, Operators and Researchers, we have made it to full ocean depth, so the stage is now set to refine and evolve underwater access solutions, of all types and for all depths, and who knows what applications. The "disappearing limitations" are actually political, and centered on The Law of the Seas. These Laws are well advanced and evolving under the UN mandate that OUR OCEANS, and their resources, should belong to the whole of mankind.
So are All Oceans developing a new ROV ? Well yes, and it is going to be bigger than the AC-ROV, but we are not going to say by how much, at least not yet.
Given All Oceans' lead in the Fly-out and micro ROV market with the AC-ROV 3000 and AC-ROV 100, then the inevitable question of "does it come as a complete system" will be asked. So yes again, the solution will satisfy both deployment methods; surface deployed system and Fly-out.
Going back to its size, it will not be big enough to carry significant sampling tools, but this is not a compromise on what defines an access capable system; DEPLOY - LOCATE - OBSERVE - SAMPLE - RECOVER.
If you have an ROV and a TMS, then together they make up the submersible package. To harness all of the advantages of having a small deep capable ROV system, the solution spreads the functionality across these two elements to best advantage. Instead of a TMS, there is a SHUTTLE, and as its name suggests it provides flexible payload capacity. A principle package will be the new Fly-out ROV and TMS, whilst others will be mission specific; sampling, scientific, or whatever. A complete vessel deployed 6000m system, with 2 man control station and work area, will load out at under 5Te, have a footprint of 6m x 2.5m and have a peak power demand of 20kw.
The "Small Advantage" or in other words the benfits are;
Small ROV systems don't need big support vessels.
They are easier and less expensive to move around the world, easier to lift on and off vessels, easier to sea-fasten and to supply with power.
Going small reduces Capital Expenditure and Operational costs all round.
The project was started two years ago and is well advanced with some significant elements built, in build and being progressed through testing. Watch this space.
Scottish Whisky buys into the AC-ROV
26 January 2016
McPherson Ltd, one of the biggest whisky road hauliers in the business purchased an AC-ROV 100 to examining the internal welds, baffles and valves of their tankers to meet period inspection requirements. Ian Jamieson, Fleet Engineering Director of McPherson Ltd said "using the AC-ROV avoids the high risk "man-in-tank". Ian see's the AC-ROV 100 as the way forward for capturing evidence of the inspection". The date and time marked video survey is recorded real time onto a SD card built into the AC-ROV system. The file can be transfered or refered to in the future by any auditing authority, or McPherson technicians the next time each tanker goes through an inspection.
Gerotto Federico become new Distributor in Italy
03 December 2015
Ac-cess are pleased to announce that Gerotto Federico will be there Italian distributor of all Ac-cess products in Italy. Gerotto Federico has over 50 years experience in the construction and maintenance of sewers, gas and water utilities. For more information on them please go to www.gerotto.it

Transocean Purchase an AC-ROV 100
04 November 2015
AC-CESS have recently sold an AC-ROV 100 system to Transocean Inc. for inspection work on the Galaxy II Jackup rig, situated in the North Sea.
The AC-ROV will be deployed down each leg of the Jackup to monitor the clearance of clay sediment that has built up around the legs of the drilling rig.
With the small size, ease of deployment, manoeuvrability and robustness of the AC-ROV Transocean recognised it as being the best underwater camera system for the job.
Transocean provides one of the most versatile fleets of mobile offshore drilling units to help customers locate and develop oil and natural gas reserves. Building on more than 50 years of experience with the highest specification rigs, they hold most of the world records for drilling in the deepest waters with a focus on safety and premier offshore drilling performance.
For more information on AC-CESS and the abilities of the worlds smallest, most portable and most capable industry ready micro ROV system visit our website product pages or enquire at info@ac-cess.com
Training was supplied as part of the AC-CESS service.
AC-CESS appoint German Distributor
29 September 2015
AC-CESS are pleased to announce the signing of a new distributor for the market leading hand portable, rapid intervention underwater inspection system, the ACROV. Ing-Buero G. Pinnow IGP are based in Hamburg, which is at the hub of Germany's marine technology market. Markus Weis of IGP said "The AC-ROV looks and operates like a larger ROV which gets the attention of experienced pilots and users. It is extremely versatile and with the range of custom attachments, can be adapted for a range of tasks ". The AC-ROV is extremely small, depth rated to 100m and with 5 degrees of freedom it can go where other technologies or divers can't. It is the perfect tool for the visual appraisal of an issue and supporting any diving or underwater operation which follow. AC-CESS is looking forward to working with Markus and IGP.
For more information on IGP visit their website directly at www.IGP.de
For information on all of AC-CESS's distributors go to http://www.ac-cess.com/globaldistributors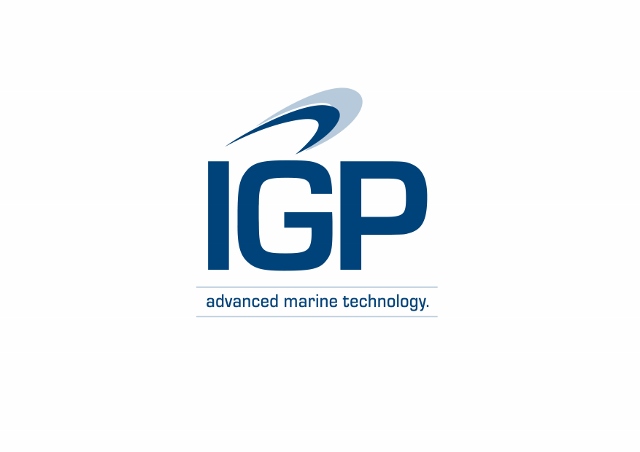 New AC-ROV 100 Monitor with DVR
29 September 2015
AC-CESS have been setting the standard in hand carry underwater inspection technology for more than a decade and this latest development adds serious functionality to the AC-ROV without compromise. The standard AC-ROV system is now available with an all new waterproof monitor and integrated digital video recorder (DVR) allowing for on the job recording, picture grabbing, editing, playback and saving to a removable SD card. The size and weight of the AC-ROV system is unaffected so it is still as easy for one person to set up and operate in confined spaces.
The AC-ROV underwater inspection system is the one out there that will not compromise on size and portability for the sake of adding bells and whistles. The AC-ROV product has not been "grown" to fit technology. It is a benchmark in its own right driving technology to fit it and the needs of its customers with respect to portability, robustness and simplicity of operation.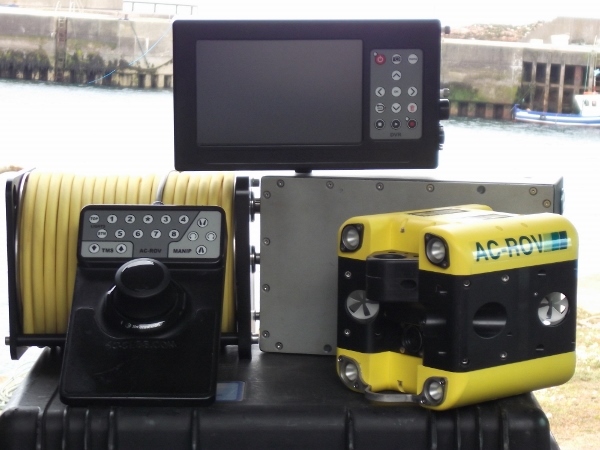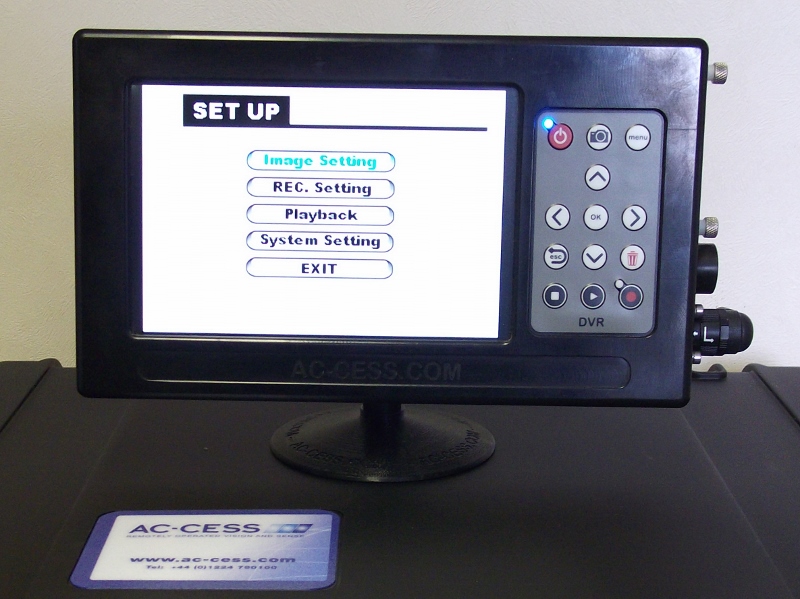 AC-CESS secure a new distributor in Japan
02 July 2014
AC-CESS are again pleased to announce the signing of a new distributor. Marimex Japan KK have recently signed to distribute AC-CESS products in the Japanese territories.
Marimex operate out of Tokyo and the company has been specializing in import, sell, service and rental of underwater products and survey equipment to Japanese customers with various support..
For more information on Marimex visit their website directly at www.marimex.co.jp
For information on all of AC-CESS's distributors go to http://www.ac-cess.com/globaldistributors
Flowave TTPurchase an AC-ROV 100
03 April 2014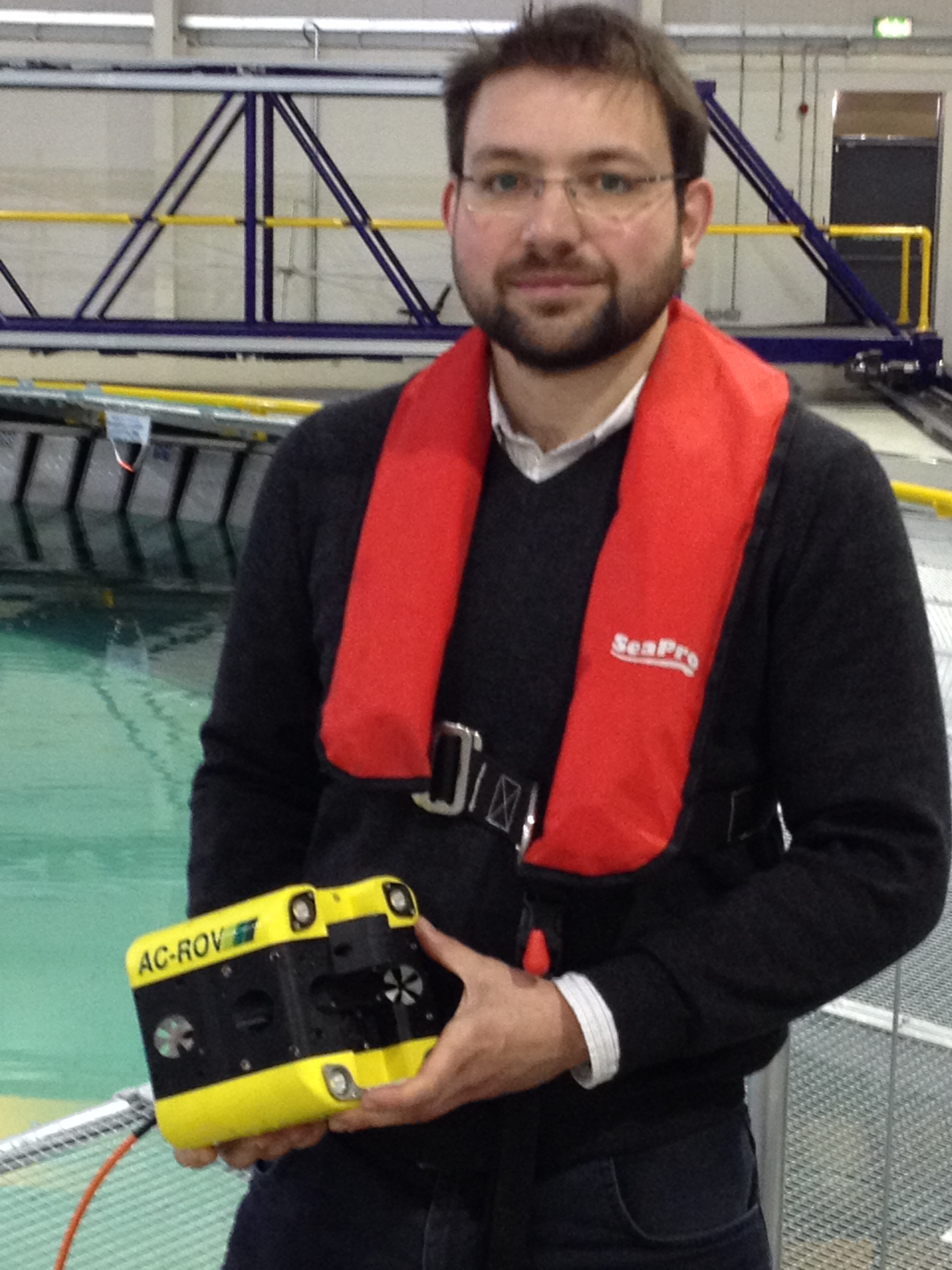 AC-CESS have recently sold an AC-ROV 100 system to FloWave TT in Edinburgh (Scotland) a company with a goal of increasing the Institute's internationally recognised expertise in marine energy device testing, evaluation and array deployment. FloWave TT will be using the AC-ROV to inspect and monitor difficult to access equipment and installations in the FloWave facility and to support scale model testing for the marine energy and offshore industries. The vehicle has been working in their state of the art tank where due to the size of the vehicle it has managed to access and video very sensitive equipment. Tom said that training was not required by FloWave to fly the AC-ROV as the intuitive 3D hand controller made flying the AC-ROV so easy and he mastered the flying of the vehicle in a very short time.
Petrobras Purchase an AC-ROV
07 June 2013
Petrobras have purchased an AC-ROV system with USBL positioning and tracking along with a two function manipulator. The order was placed with ATIVA Tecnologia and Desenvolvimento (AC-CESS distributor in the region) a subsea robotics company who are leading suppliers of ROV technology and services in Brazil. ATIVA have been in operation since 2005 and now have a major influence on the subsea robotics market in Brazil through their progressive, responsive approach to the industry and excellent service.
Daniel Camerini of Ativa works closely with Petrobras and confirms that "Petrobras will use the AC-ROV at their Research Centre. They will use it to monitor new subsea tool developments during lab tests in tanks and field tests at sea. The USBL tracking and positioning system will be useful in poor visibility conditions. The manipulator will be used for object recovery and to hold the AC-ROV on a video target during tests."
Petrobras have upwards of 100 production platforms, 16 refineries, 30,000 kilometres of pipelines and more than 6,000 service stations worldwide. Their proven reserves are around 14 billion barrels of oil, a figure expected to double in the next few years with the discovery of oil and gas in the pre-salt region.
AC-CESS Launch Scanning Sonar for the AC-ROV 100
03 May 2013
The market leading AC-ROV 100 Underwater Inspection System is now available with an Ultra-Miniature digital Scanning Sonar.
Sonar is an acoustic technique which presents an image of the environment in conditions when the camera is limited by the visible range. There may be times when visibility is poor making the location and inspection of targets in the water a more difficult task. Fitting sonar to the AC-ROV as an option overcomes the poor visibility problem and is an aid to navigation.
Inline with the AC-ROV ethos of mobility, portability and robustness the solution is an integrated arrangement of the Imagenex Model 852 Sonar. The outcome retains the clean, robust and snag free shape of the AC-ROV, whilst the topside interface is 100% Imagenex standard.
The Sonar system could not be easier to deploy, with no modifications required to the AC-ROV*system and no specialist training for integrating the transducer block to the vehicle.
More AC-ROVs in Russia
10 January 2013
The Russian Distributor for AC-CESS have reported a number of sales of the AC-ROV 100 in the past few months.
Tetis Pro JSC are the AC-CESS distributors in Russia, committing to the AC-ROV product range in 2012 because it is the smallest, most robust and most versatile work ready ROV system on the market.
Recent AC-ROV sales were to various companies in Russia. One AC-ROV system was bought by a company in the far east of Russia who operate as underwater contractors and in river construction work.
EMERCOM; the Ministry of the Russian Federation for Civil Defense, Emergencies and Elimination of consequences of Natural Disasters took delivery of three systems.
Tetis Pro is the main arm of the Tetis Group specialising in design, manufacture and supply of underwater equipment, diving systems, life support systems, equipment for surface and off-shore security systems since 1991.